Solar Charge Controller

SolarAmp BG
/
SolarAmp B
/
SolarAmp B Auto Night Detection
/
SolarAmp B For Lithium Battery
/
SolarAmp mini
/
DPLS-10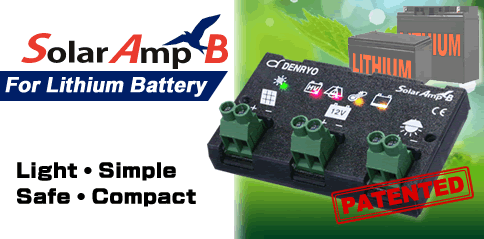 The World's Most Compact Design
For Lithium Battery
Low Self-Consumption
Rich Protection Circuitry
Over Discharged Battery Recovery
Easy Installation
LED Indication
The World's Most Compact Design
In the same class of 10A and 20A solar charge controllers, SolarAmp B is the lightest one in the world. The size is as small as a business card, and it takes less space than other ones in the control box.
For Lithium Battery
This model is specialized to charge lithium batteries. The charging voltage 12.4V fits with the voltage of lithium batteries.
Various Product Lineup
Four models of products could be chosen, according the conjuction with system voltage (12V/24V), current capacity(10A/20A), types of batteries and the function of auto night detection.
Low Self-Consumption
The self-consumption current of SolarAmp B is about 2mA. It achieves longer stability of the system. Moreover, the low self-consumption has also improved the performance of the system.
Multiple Protection Circuitry
Over / Low Voltage Protection
Over Temperature Protection
Reverse Polarity Protection
Overload Protection
Surge Protection
Short-circuit Protection
Over-Discharged Battery Recovery
SolarAmp B automatically resumes over-discharged battery by the battery recovery function. This benefits the systems in the some faraway areas in where the maintenance is difficult.
Easy Installation
SolarAmp B is easy to be installed. Without any complicated setting steps, just connecting the controller to photovoltaic module, battery and DC load.
LED Indication
SolarAmp B is equipped with 5 LED indicators with 3 colors to indicate the charging status, the battery status, and the load status.
Model No.

SA-BA10Li

System Voltage

12V

Max. Input Voltage

25Vdc

Min. Input Battery Voltage

6Vdc

Max. PV Input Current

10A

Max. Load Current

10A

Self-consumption Current

2mA(Typical)

Charging Algorithm

2-stage (Bulk, Absorption)

Bulk Charging Voltage

12.4Vdc

High Voltage Protection
OVP

13.5Vdc

OVR

12.8Vdc

Over Discharge Protection
Warning

10.0Vdc

LVD

9.0Vdc

LVR

10.5Vdc

High Temperature Protection

40℃ (Warning) /50℃ (Error) /40℃ (Recovery)

Low Temperature Protection

0℃ (Warning) /-10℃ (Error) /0℃ (Recovery)

Battery Type

3 series connection of 11.1V lithium ion rechargeable batteries

Wire Size

#18AWG~#12AWG

Grounding

Positive Ground

Operation Temperature

-10~50℃

Storage Temperature

-30~70℃

Humidity

5~95%RH(non-condensing)

Dimensions(W×H×D)

91×55×29(mm)

Weight

65g



◆The specifications are subject to change without notice.