DC-AC Pure Sine Power Inverter DIAsine
GD300
The smallest sine wave DC-AC power inverter in the world
DIAsine has achieved the lightest weight of 1.0kg and the smallest volume of 1.5L in the same output class of inverters. The height of DIAsine is 44mm/ 1.7 inch (1U). The lightweight and small features reduce the system weight and size.


Input reverse polarity connection protection by built-in circuit
DIAsine has the exclusively own built-in circuit of input reverse polarity protection. This circuit protects DIAsine not to get damaged like most of existing inverters even if the battery is connected with reverse polarity. Moreover, the reverse polarity warning LED of DIAsine lights immediately to inform the user the reverse polarity connection. *Patent applied for 


Operating silently based on fanless structure
The efficient heat design achieved the fanless structure. The fanless structure leads silently operation without the fan-generated noise.


Wide input voltage range
With the wide range of input voltage settable, DIAsine delivers diversified applications. Since DIAsine has higher maxium of input voltage than other existing inverter, it is possible to charge battery while the inverter is operating.


Wide range of operating temperature
DIAsine operates under a wide range of temperature from -20~60℃.
*DIAsine will not stop the output automatically. Under the environment with temperature exceeding 40℃, please use the load along refer to the derating curve of each model.


Pure sine wave output and high efficiency
The output waveform is as same as the sine wave of commercial power supply, of which the total harmonic distortion is less than 3%. High-efficiency circuit and switching control achieve 90% efficiency at rated load. It contributes to the stability of the system during operation without extra wasted energy consumption.


Swithable setting of output voltage and frenquency
The output voltage 100/110/115/120 Vac and frequency 50/60 Hz easily switch by buttons. DIAsine adapts to areas with different voltage, frequency, and various electric appliances.
Model

GD300NA-112

GD300NA-124

GD300NA-148

Output rated power

300VA

Output peak power(3mins.)

360VA

Surge power(3secs.)

420VA

Input Battery Voltage

12Vdc

24Vdc

48Vdc

Output AC voltage (switchable)

100 default/110/115/120Vac±5%

Output frequency (switchable)

50±0.1% default, 50/60Hz

Output waveform

Sine wave, <3%THD

Efficiency at rated load

90%

No-load current*1
(Normal mode)

0.69A

0.37A

0.17A

No-load current*1
(Low power mode)

-

0.27A

0.12A

Standby mode consumption*1

7.9mA

7.3mA

4.6mA

Sleep mode consumption*1

-

3.6mA

2.7mA

Input voltage range*2

10.5~17Vdc

21~34Vdc

42~68Vdc

Protection

UVP*3, OVP*4, input reverse polarity
OLP*5, SCP*6, OTP*7, output voltage error

Safety standards

EN60950-1:2006+A11+A1+A12+A2

EMC

Immunity EN55024:2010
Emission EN55032:2012, FCC class A

Withstand voltage

Battery I/P– AC O/P:3.0kVac
AC O/P– Ground:1.5kVac
Battery I/P– Ground:1.5kVac

Isolation resistance

>1000MΩ/500Vdc/25℃/70% RH

Vibration

10~500Hz,3G 10min./ 1cycle, 60mins. XYZ axes

Operating temperature*8

-20~+40℃ at rated load, +60℃ at 70% load

Operating humidity

20~90%RH non-condensing

Storage temperature/ humidity

-30~+70℃, 10~95%RH non-condensing

Cooling

Natural convection

Dimension(L×W×H)

234.0×146.5×44.0mm

Weight

1.0kg
●RoHS compliance
◆Specifications and appearance may change without prior notice.
◆All parameters NOT specially mentioned are measured at 112: 12Vdc, 124: 24Vdc, 148: 48Vdc input, rated load 300VA, power factor = 1.0, 25℃ of ambient temperature and under the default setting.
*1 Average. *2 Tolerence of voltage: 112:±0.5V, 124:±1V and 148:±2V.
*3 UVP: Under Voltage Protection
*4 OVP: Over Voltage Protection
*5 OLP: Over Load Protection
*6 SCP: Short Circuit Protection
*7 OTP: Over Temperature Protection
*8 Please refer to the derating curve graph.
・GD300NA-112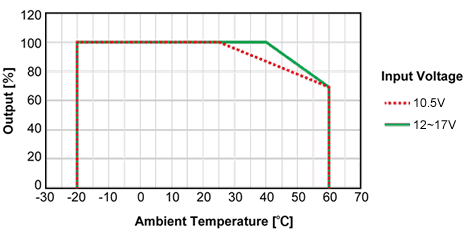 ・GD300NA-124/148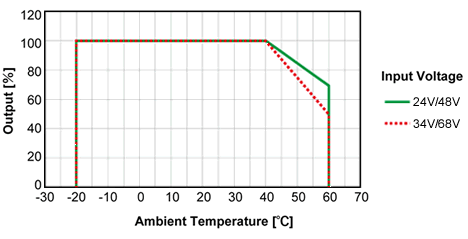 ◆The value on the de-rating curve is recommended operating setting. DIAsine will not stop the output automatically.