NEWS
See Denryo At PV EXPO 2020
Dec. 25, 2019
Denryo will be exhibiting new products at the 13th PV EXPO 2020 in Tokyo Big Sight.
Denryo is pleased to introduce the new lineup of DC-AC power inverter "DIASINE®" 200V models, and Waterproof, Dustproof Solar Charge Controller "SolarAmp BG". Moreover, off-grid solar panels will be demonstrated in a system condition with other products such as solar charge controllers, DC-AC power inverters, and battery chargers in the exhibition.
Visit Denryo to catch more details! Don't miss it!
Look forward to seeing you.
For more detail: PV EXPO 2020
Date:
Feb. 26th-28th, 2020
Venue:
Tokyo Big Sight, South Hall
Booth No.S20-6
Promoter:
Reed Exhibitions Japan ltd.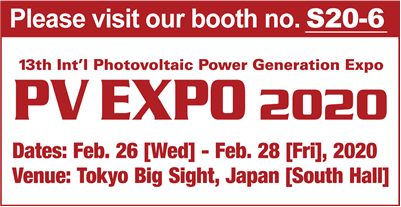 Output Voltage 200V Models, the New Line-up of Fanless DC-AC Power Inverter DIASINE
®

, Is Going to Be Released on Dec. 23th.

Dec. 19, 2019

DENRYO is planning to release the new line-up of fanless DC-AC power inverter, DIASINE®, output voltage 200V models on December 23th.

DIASINE® has achieved the lightest weight of 1.0kg and the smallest volume of 1.5L in the same output class of inverters. The height of DIASINE® is 44mm/ 1.7 inch (1U). The lightweight and small features reduce the system weight and size.

The 200V models equipped with universal type AC outlet apply to all types of plug around the world.

DIASINE® has the exclusively own built-in circuit of input reverse polarity protection. This circuit protects DIASINE® even if the battery is connected with reverse polarity. Moreover, the reverse polarity warning LED of DIASINE® lights immediately to inform the user the reverse polarity connection.

DIASINE® is capable to operate under wide ranges of input voltage and temperature, and be switched ON/OFF remotely. DIASINE® is well applied in various environments and applications.

▶For More News